Product Info
Product Details
Literature
Video
Clinical Data
FAQs
Education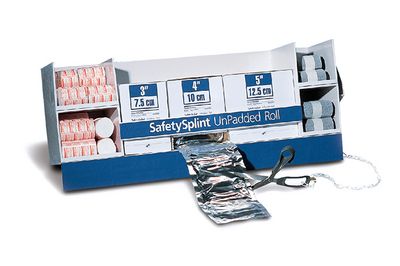 SafetySplint™ is a unique, strong and durable unpadded splint which allows you to control the amount of cushion between the patient and the splint. The unique liner does not require gloves and allows for easy removal for dressing changes.
Fiberglass Unpadded Roll Features:
Thin profile - excellent feel-through for fracture alignment
Unique liner allows for no gloves and easy removal for dressing changes
Roll form - No waste
Strong and durable; Radiolucent
Totally clean application
Fiberglass Padded Precut System Features:
Saves time, no plaster clean-up
Fast set-up, quick patient turn around
Molds easily for custom fit
Lightweight and durable
Patient friendly, fits easily under clothing
Comfortable to wear, washable
Compact packaging
Please refer to the product label and / or package insert for full instructions on the safe use of these products.