Product Info
Product Details
Literature
Video
Clinical Data
FAQs
Education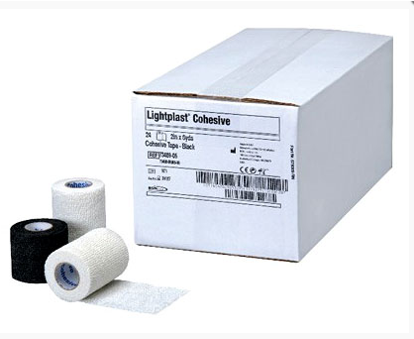 Constructed from a combination of polypropylene fibers and elastic yarns and coated with a natural rubber compand to endable it to adhere only to itself. Bandage is versatile and suitable for use where light support or compression is needed.
Benefits
Easy to use: No pins or clips are required to hold the bandage in place
Unique construction, non-slip coating: Maintains consistent support and compression, bandage will remain in place even during periods of increased movement, e.g., sports
Strong, light and durable: Can easily be removed and reapplied if necessary
Flexible substrate: 150–200% stretch allows the bandage to conform to awkward body contours, leading to increased patient comfort and compliance
Air permeable: Allows the skin to breathe making longer periods of wear more comfortable
Patient comfort: Adheres only to itself and not to the patient's skin
Indications
General support for sprains, strains and soft tissue injuries
Prophylaxis: Prevention of sports injuries by wrapping targeted areas
Retention of dressings, splits and hot/cold packs
Skin which can be damanged or irritated by adhesive bandages
Please refer to the product label and / or package insert for full instructions on the safe use of these products.