Product Info
Product Details
Literature
Video
Clinical Data
FAQs
Education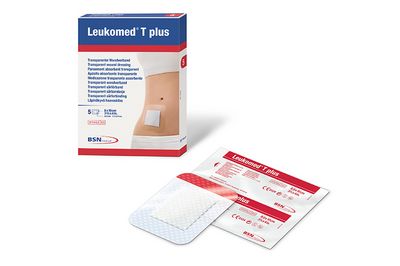 Leukomed® T Plus combines the best of a waterproof, bacteria proof film dressing with an absorbent island wound pad. The transparent polyurethane film of Leukomed® T Plus is waterproof and bacteria proof, which protects the wound site even during showering or bathing. Leukomed® T Plus' wound pad has a good absorption capacity allowing for long intervals of dressing changes and provides secure handling of wound fluid. The extra soft, wound pad has a non-adherent layer that prevents it from sticking or interrupting the healing process. The absorbent island wound pad and transparent film makes Leukomed® T Plus ideal for post-op and surgical injuries which require a waterproof protection.
Ultra-thin for high vapour transmission
Pattern for breathable film
Easy application
Waterproof and bacteria proof
Non-adherent wound pad
Absorbs 12× its weight
Please refer to the product label and / or package insert for full instructions on the safe use of these products.