Product Info
Product Details
Literature
Video
Clinical Data
FAQs
Education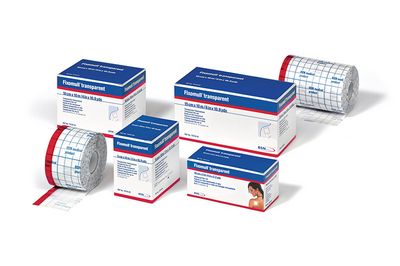 Fixomull® transparent is a waterproof wide-area fixation to reliably secure and protect wound pads and ointment dressings as well as instruments, probes, catheters and measuring devices. It is non-sterile and comes on a roll in various widths. Fixomull® transparent consists of a thin breathable polyurethane film coated with a skin-friendly adhesive in a special pattern technique. The product protects reliably against water, bacteria and contaminants, yet granting a high MVTR. The unique application technique with the distinctive red stripe allows for easy and quick application. Its extra thin film is pliable and stretchable conforming to body contours like a second skin. Fixomull transparent's semi-permeable film is both waterproof and bacteria proof, protecting the player's primary wound dressing. The film is permaeable from the inside so it lets the skin breathe. the film is easy to apply and remove. A removal tip is to take one corner of the film and pull – fully extending the stretch of the film. It will lift away from skin allowing the film to be easily removed without adhesive irritating skin or pulling hairs. Film is practically invisible and is aesthetically pleasing.
For waterproof fixation of wound dressings, gauzes and absorbent compresses
For waterproof fixation of instruments, probes and catheters
For ointment dressings
In hydrotherapy
Please refer to the product label and / or package insert for full instructions on the safe use of these products.