Product Info
Product Details
Literature
Video
Clinical Data
FAQs
Education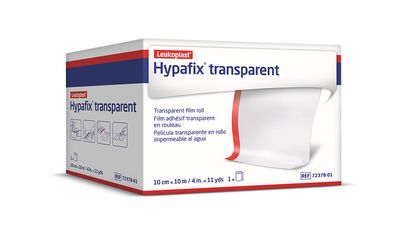 Hypafix® Transparent is a clear, waterproof wide-area fixation tape to reliably secure and protect wound pads and ointment dressings as well as instruments, probes, catheters and measuring devices. It consists of a thin breathable polyurethane film coated with a skin-friendly adhesive that reliably protects against water, bacteria and contaminants, while still providing breathability and a high moisture vapor transmission rate. The extra thin, semi-permeable film is both waterproof and bacteria proof, protecting the patient's primary wound dressing while remaining pliable and stretchable, conforming to body contours like a second skin. The unique application technique with the distinctive red stripe allows easy and quick application. Hypafix® Transparent can be worn in the bath or shower with no additional protection or change of dressings.
Breathable - lets the skin breath, reduces risk of maceration
Waterproof - allows patient to shower and bath
Transparent - allows visual inspection of wound environment
Bacteria-proof - reduces the risk of infections
Please refer to the product label and / or package insert for full instructions on the safe use of these products.
| Ref. No. | Size | Rolls per inner/outer |
| --- | --- | --- |
| 7237800 | Hypafix Transparent 5cm x 10m | 1/12 |
| 7237801 | Hypafix Transparent 10cm x 10m | 1/12 |
| 7237802 | Hypafix Transparent 15cm x 10m | 1/12 |
| 7237803 | Hypafix Transparent 10cm x 2m | 1/12 |